Geistlich vLab
The Geistlich virtual hands-on workshop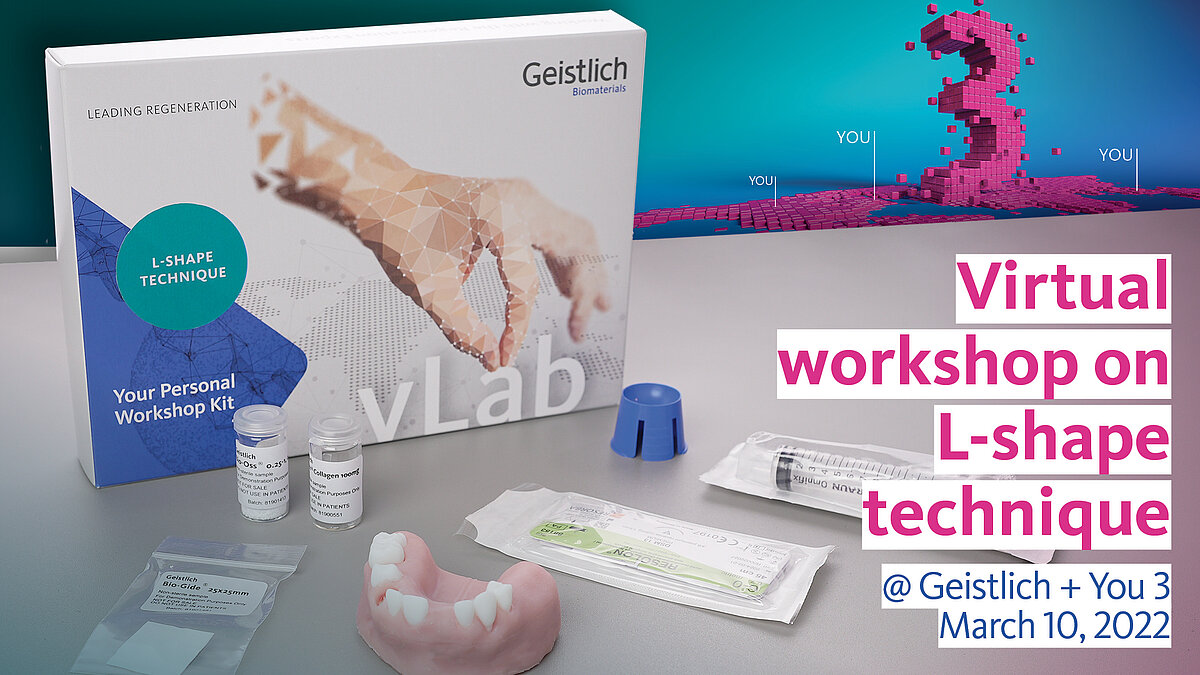 Topic
Virtual hands-on workshop on Bone Augmentation with the L-Shape Technique
Speaker
Nadja Nänni, Dr. med. dent.
Target Audience
The Geistlich vLabTM is targeted at GPs, students, graduates, residents, and those interested in bone augmentation procedures at early implant placement, using Prof. Dr. Ronald E. Jung's L-Shape Technique.
Abstract
Hands-on workshop about bone augmentation around implants in the aesthetic area using the 'L-Shape Technique'
In the aesthetic area it is important to provide as much stability to the soft and hard tissue around an implant as possible. A lack of volume around an implant may compromise not only the aesthetic outcome, but also the stability and success of an implant.
This Geistlich vLab™ workshop will focus on prosthetically-driven implant placement in the aesthetic region. Subsequent guided bone regeneration using a bone substitute material and a resorbable membrane will be performed on a plastic model. The GBR-procedure will focus on the so-called 'L-shape technique', allowing to augment volume at the cervico-buccal aspect of the placed implant where it is most needed.
Both the introductory lecture and the online hands-on workshop will deliver clinical background and clinical tips and trips regarding the 'L-Shape Technique' to the participants in a tell / show / do-manner. The online hands-on workshop will be followed by a Q&A-session allowing for further discussion of the topic.
Agenda and Material
The Geistlich vLabTM will be presented twice, and in an identical manner:
Slot 1: 12:00 p.m. - 1:00 p.m. CET
Slot 2: 09:00 p.m. – 10:00 p.m. CET

The workshop starts with a short lecture by Dr. Nadja Nänni on the topic of bone augmentation procedures in combination with implant placement in the aesthetic zone, especially focusing on the application of the L-Shape Technique with Geistlich Bio-Oss® Collagen with early implant placement to augment and preserve hard and soft tissues around the implant. This introduction is followed by a 35 min hands-on demonstration, where you will watch, listen, learn and perform the procedures shown by Dr. Nänni. The Geistlich vLabTM will end with a short live Q&A session, where participants will have the opportunity to directly interact with Dr. Nänni by submitting questions via live chat.
For active participation in the hands-on exercise, for a fee of 79 Euro you will receive a Geistlich vLabTM workshop kit with the materials that you need to perform the procedures shown (see below); in addition to materials provided in the kit, you will also need to prepare some items yourself (see here below ), to follow the demonstrated procedure.
In case you cannot or do not want to actively participate with a workshop kit (for limitations and restrictions see below), you will still have the opportunity to follow and observe the Geistlich vLabTM; just stay on the congress stream.
Included in the Geistlich vLabTM workshop kit are:
Mouth model (maxilla)
Geistlich Biomaterials (non-sterile; not for use in patients)
Dappen dish
Suture
Syringe
Pins and Pin Holder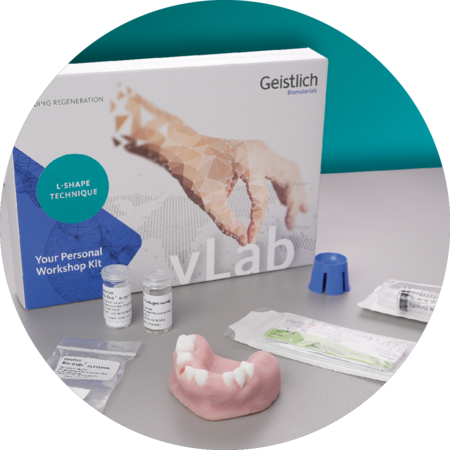 Not included in the kit and what you need to prepare yourself for a successful participation:
Periodontal probe
Scalpel (e.g. Fig15c, or microblade)
Fine elevation instrument
Raspatory
Needle holder
Surgical tweezers
Scissors
Mallet (optional)
Water
Gauze
Registration
Please use the registration form on this landing page and provide all necessary details for receiving the Geistlich vLabTM workshop kit to your preferred shipping address. After the registration, you will receive a confirmation email about your attendance. In case your country is not listed on the registration form, you cannot register for active participation. You are still invited to just follow and observe the virtual hands-on workshop.
For courses available in your area/country, please visit our international courses website.
NOTE: Registration for an active participation is limited to selected countries where Geistlich Pharma AG has a partner distributing the workshop kits.
Fee and Payment
79 Euro
This is to receive the Geistlich vLabTM workshop kit which allows you to actively participate to the virtual hands-on workshop.
After successful registration, you will be contacted by the local Geistlich Pharma AG partner, detailing the invoicing and payment options. The Geistlich vLabTM workshop kit will be delivered to your indicated shipping address.
Restrictions
The Geistlich vLabTM workshop kit can only be shipped to selected countries. Congress attendees from countries not appearing on the registration form are excluded from active participation but can still watch and observe the virtual hands-on workshop free of charge.
Confirmation of Attendance
Registered attendees for active participation with a Geistlich vLabTM workshop kit, and for observation only (without a Geistlich vLabTM workshop kit) will receive a confirmation of attendance.
Further Questions
If you have any further questions about the Geistlich vLabTM, please contact your local Geistlich partner.